Our Best Stuff From a Week of Pain and Protests
Outrage over the death of George Floyd spills into the streets and spreads around the nation.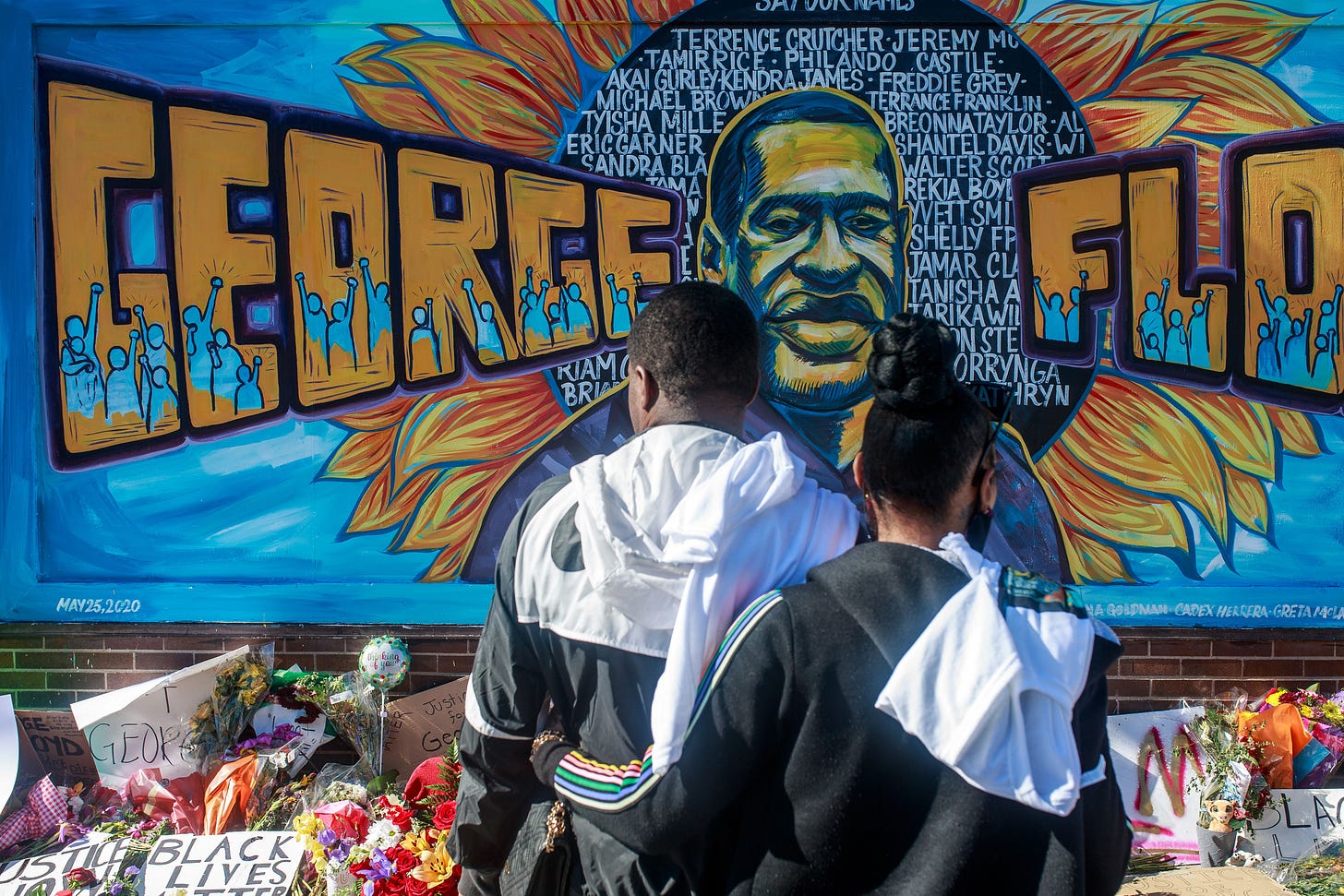 If you ever wondered what it would take to supplant coronavirus as the top story of the day, we now have an answer. In a week that we passed the grim and unfathomable-yet-inevitable milestone of 100,000 U.S. pandemic deaths, it was the tragic, infuriating, and seemingly unnecessary death of one man in Minneapolis—and the fallout from that death—that caught our attention. 
In some ways the death of George Floyd feels heartbreakingly familiar, the latest in a series. There are obvious parallels to past officer-involved deaths. Like Eric Garner in New York, Floyd told the cops, "I can't breathe." As with Michael Brown's death in Ferguson, protests gave way to riots and looting. His death took place maybe a 30-minute drive from where an unarmed Philando Castile was killed by police in 2016.
On the other hand—this is just my personal observation, though I've seen a few acquaintances make similar comments—it also feels in some ways that maybe those past tragedies have left a lasting impression. Past events like this have only highlighted our polarization. Black Lives Matter begat "All Lives Matter." Protests over police brutality prompted a "Back the Blue" movement to defend police. This time around, it feels like the support for Floyd—and the black community more largely—is almost universal. Almost. Sure, there was a small-town mayor in Mississippi who earned his 15 minutes of infamy by suggesting that Floyd "most likely died of an overdose or a heart attack" and defended the cops. And, well, if you look hard enough on social media, you'll find your usual cranks and racists. But this feels less like a battle between criminal-justice reform advocates and law-and-order types than previous incidents. And the protesters in Minneapolis are not alone: Demonstrations (and, alas, some riots) have broken out in in cities around the country. I do worry that one thing that jeopardizes that unity is the rioting and looting that has grown out of the protests: Burning down businesses or vandalizing CNN's headquarters accomplishes nothing but to bring negative attention to a worthy cause.
What also feels different this time is how it also touches on so many other stories going on today. It's a small thing, but it was interesting to see photos of protesters wearing masks and read accounts that the more organized and orderly protests involved social distancing, a nod that even social justice must make accommodations to a pandemic. 
But it also immediately brought some unwanted attention to Amy Klobuchar's potential vice presidential candidacy. News broke last week that the Biden campaign was vetting her for the role. Klobuchar was the Hennepin county prosecutor until she was elected to the Senate in 2006, and now her record is under scrutiny. The New York Times reports that she often sent cases with officer-involved shootings to grand juries rather than bringing charges herself. Early reports claimed that she once declined to prosecute Derek Chauvin, the man who's been arrested in Floyd's death, for another shooting. But the incident happened just days before she was elected to the Senate, and she was no longer the prosecutor when the case was tried.
And there are few stories that avoid a run-in with Donald Trump. The president was already engaged in a battle with Twitter after it applied "fact checks" to two of his tweets about mail-in ballots. Trump responded by issuing a (largely toothless) executive order aimed at social media platforms. And then, late Thursday night as protests yielded to riots and a police precinct in Minneapolis burned, the president tweeted this:
Twitter responded with a message saying that the language violated its terms of service but that "it may be in the public's interest for the Tweet to remain accessible." As my colleague Jonah Goldberg has noted, Twitter has created a problem for itself here. But I'm not sure there are any good answers or easy solutions.
We worked hard at The Dispatch this week to stay on top of the Floyd story, the president's fight with Twitter, and also the pandemic, which proceeds without regard for any other tragedy. We thank you for your support, and we will work hard to keep it. If you haven't joined yet, we hope you'll consider it.
And now on to our best work from the past week.
Bob Driscoll is a former deputy assistant attorney general for the Department of Justice and during his tenure with DoJ dealt with cases of officers accused of using excessive force against minority suspects. He wrote about one such case in Inglewood, California, and he also reviewed some past cases, such as the Michael Brown shooting in Ferguson, Missouri. Even when such cases rightly end up without prosecutions or convictions, he argues that they point to a real problem that we must deal with: "These cases are instructive because they involve black men. Regardless of the result, they all demonstrate that the issues surrounding how our society, including but not limited to the police, perceive and treat black men, cannot be adequately addressed in the context of the prosecution of an individual case, regardless of the outcome."  
If you've followed any of the president's fight with Twitter, you've probably heard a lot about Section 230. And a lot of what you've heard is probably wrong. Fortunately, David French is here to cut through the noise and clutter. Section 230 of the Communications Decency Act protects internet companies from being liable for content that its users post and also allows them to moderate that content. But critics of social media companies like Twitter and Facebook try to claim that it requires them to be neutral, or that the law should be changed to make it easier to sue them. But as David points out, "it just so happens that this provision is the great engine of free speech online. It has created the modern internet marketplace of ideas." In a related piece, Jonah breaks down the fight between Trump and Twitter and expresses his frustration at the stupidity of it all.
As of May 22, a staggering 42 percent of coronavirus deaths in the United States happened in nursing homes. While those deaths can be blamed on a combination of factors including or slow initial response to the pandemic and the terrible decision by some governors to require nursing homes to take in coronavirus patients while they were still testing positive, there's also something troubling about the overall state of senior living in the United States. Gregg Girvan does a deep dive on how the industry has evolved over the years because of Medicaid funding.
Now for the best of the rest of our stuff: